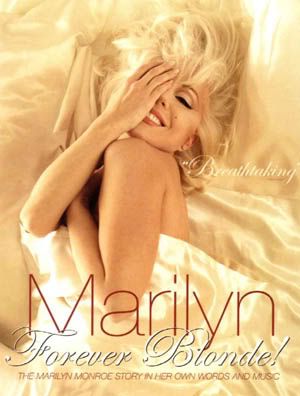 Friday night BG surprised me by taking me to see Marilyn Forever Blonde at
MOCA
which was really thoughtful & exciting since he knows how much i love her!! It's a one-woman play that pulls you into an intimate 1962 shoot with Marilyn as she opens up about her life. She poses, sings, flirts, devours champagne & goes through numerous costume changes. It was crazy how real it felt, she really embodied Marilyn - making me wonder what it would be like to see her in the true swinging sixties. The whole play is all supposed to be "her own words" & even included sound clips where we hear brutally cruel statements about her by her ex husbands. It opened & closed the same way - with her naked & laying between satin ivory sheets.
It was heartbreaking at the end, I felt her loneliness while sitting there in my chair. I really enjoyed it, my only complaint was that I didn't feel her style was reflected well in the play at all--- I was so disappointed in the outfits she wore, it almost cheapened it for me. Oh & no singing Happy Birthday Mr. President- though she did do a great job with the other thirteen (according to my playbill) songs. Below is an interview with the actress & star Sunny Thompson~
she even goes in & out of character in the clip.