Today i woke up at an ungodly hour for a Saturday morning ~ six am ! In case you didnt know, i'm an awesome girlfriend who wakes up at dawn to take BG & his friends downtown, a midst a sea of twenty thousand others all eager to tackle the .
gate river run

.
I have no personal ambitions of ever competing or completing a 15k, but will happily support others who love to push themselves to that level. instead of running, i navigated the closed streets downtown barely moving along in my little beatle. When i came home i snuggled with button & then began working on my newest painting & it then got the call that it was time to pick up the sweaty boys.
i put the top down, played some jack johnson & got ever so excited when i came up on the
riverside arts market
! what a pleasant surprise ♥ SO after picking up the fellas we went for some tasty moon river pie ~~~ delish !! Then BG & i came home so he could shower & we all (button included) went to the market. she was so LOVED - everyone kept commenting on her & three different people asked if they could photograph her. too cute, & she was so well behaved, & made me so proud :]
i found these darlings & am excited to own them now ♥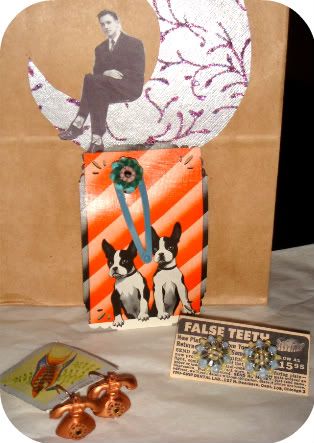 sweet vintage telephone earrings, hand-beaded flower earrings, & a hand-beaded barrette. so adorable!
t'm off to work some more on my painting!