hola internet world ♥ dinner with jt$ & Am was absolutely delish at la nop. i get the same thing every time i dine at there, chicken quesadilla, white cheese sauce (aka queso) for the yummy chips & nine times out of ten a margarita... or a pitcher :D
i'm quite sure i could easily live off their queso & chips alone. Actually, i am craving it now just thinking about those tasty tortillas covered in cheese. the only thing close to as yummy i have found in grocery store land is by a brand called Gordo's, & by saying close is pretty generous. i have failed at my own attempts of recreating it on the stove. i am a girl who LOVES cheese. anyway, enough about dairy products, and my desire for them.
i forced Am into taking a pic with us when she didn't want to. but i cant resist her adorable prego belly. why is it that most dudes fail so miserably in the photographic skills department?? ...seriously this image is one of four, & the best because of lack of centering skills, we're the focal point. Hi! Not exactly the ceiling.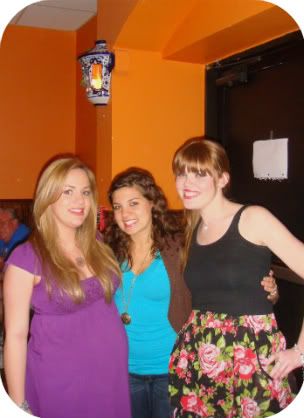 i ordered a pitcher of margs for jess & i & ended up drinking solo, pseudo drunkie?? Jess then drove us home & she cut my hairs in the back room. oh how wonderful it is to have a skilled girlfriend as a hairstylist. it came out shorter than i thought but it feels great & i got a lot of compliments on it today at work & i think she did awesome. i only wish she lived closer so we could feast on mexican food & laugh on a more regular basis.