eeep! i am so in love with the Liberty of London collection currently at Target. It is hands down without a doubt my favorite thus far... i picked up this gorgeous little gem....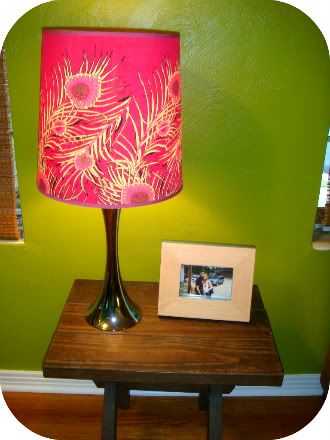 OOOOh i so love the peacock feathers, & the bright ass pink shade. i've been looking to replace the previous table lamp for months & am SO happy with my purchase! i have literally been oogling over its beauty for days, as it sits in my living room, which is almost embarrassing to admit :D but really - so retro modern, love love love !!
just to the left of it i moved my painting:
It's a replica of BG's first guitar & i think it looks so much better on my "rolling hills" wall compared to on the "tropical waters" wall. yes, we painted our living room, both tropical waters & rolling hills.... best of both worlds? i think so. but i must say i do love its new location, props to my girl JT$ for suggesting the move.
& so, that's all for now~ time for bed! i am a tired girl & must be up by six-thirty for work! tomorrow is friday :) :) yay!