i sit here on my couch with my loving little button sipping on a glass of wine reflecting on what a domesticated woman i feel like at times. which i am completely comfortable with, its interesting & charming in its own little way.
today one of my co-workers Edna brought me in nine magazines per my request recently that she stopped bringing her Family Circle. Good Housekeeping, Womans Day, etc into our lovely Wachovia Bank break room. seriously i was missing them, i love the recipes & articles on organizing & house tips like using toothpaste to brighten your silverware... not that i have done that, but still its entertaining in such a way. perhaps i was a 40's house wife guru in another life. Anyway, i was thrilled when she brought them into me & i began searching for what i would make for dinner tonight. & i came home & put my mint green polka dot ruffled apron on & began cooking.
the menu: Roasted Lemon Pepper Chicken with Garlic Herb-Oil Ravioli & Green Beans ♥
it came out even better than i expected! & i served the Ravioli in my new Pyrex Oval Avacado casserole. it was "very fancy babe" & over half way through taste bud heaven i found myself regretting that i hadn't taken a photo of how cute it all looked in my new dish. oh well, the opportunity will present itself again.
LIFE IS NOT MADE FOR REGRETS ♥
i would however like to share with you one of my most favorite things about my forties house... this antique chandelier...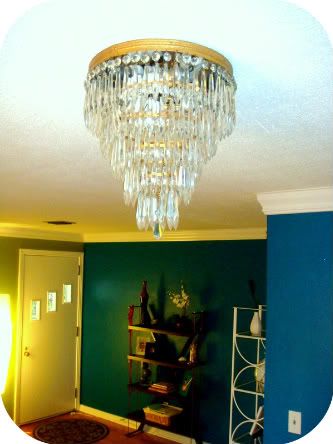 i individually removed, cleaned & restrung each crystal when we moved in & am still in awe of its beauty. i absolutely love living in an older home with such character. at times when i am overwhelmed with all the projects the house has, i look up at this chandelier & appreciate the beauty & i know one day it will be just as perfect.
♥ I am hoping the rain returns tonight with wine + snuggling with Button. oh & on my lunch break today i painted my nails Peas & Q's by Nicole.... oh, hello new favorite spring color: