the other evening i found myself browsing the interwebs (specifically my long list of bookmarks) & entered the magical & ever so inspiring world of
Audrey Kawasaki
, an incredible artist i have been swooning over for oh... about two years. i decided i could not help but share her unique & wonderful world here on my blog. Her work is so sexual & dark & at the same time sweetly innocent & childlike.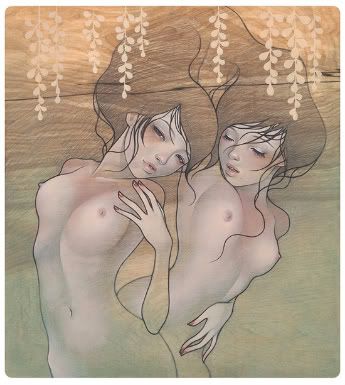 "The figures she paints are seductive and contain an air of melancholy. They exist in their own sensually esoteric realm, yet at the same time present a sense of accessibility that draws the observer to them. These mysterious young women captivate with the direct stare of their bedroom eyes."
i so crave one of her pieces in my home ♥ happy weekend, i love saturdaze!