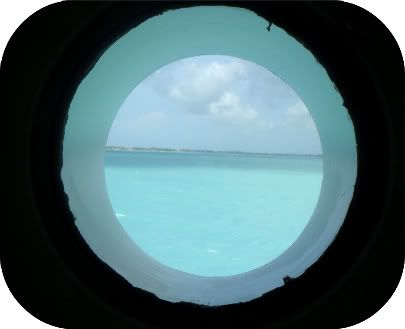 Cruising! Staring out little port holes that give way to beautiful oceanic views.
Something i have been daydreaming every so often since late oh-eight (when i last went with BG to Belize, Mexico & Key West) & something that my subconscious was deep inside last night as i slept. I traveled to some beautiful island, via a ginormous, no wait gargantuous glorious ship known as The Mystic. Not sure whether or not this ship actually exists but it was absolutely gorgeous inside & out. I promise this is not me seeing how many adjectives i can use that begin with the letter G... moving on. There was a room made entirely of crystal. A spinning dance floor that i could not get off of, nor did i want to & the best part of all was so many people i love were on board. I kept running into so many lovely people all from separate time periods of my life & we ported on this island and played music, snorkeled & built sand castles & i even remember taking all these pictures with my camera on my phone. Of course, when i woke up the first thing i did was check my cellular device only to find no such excursion had taken place. Heartbreaking but absolutely exhilarating... i love dreaming, i love the places it takes me to, the new ideas it gives me & i have often wondered if the people in my dream are sharing the same dream at the exact moment in time.
i woke up & my mom called to ask me if i would like to join her & my dad to see "the new suspense movie with Leonardo DiCaprio." Being completely unaware Leo was in a new movie i jumped all over the opportunity. insert HELL YES [here] & so i called my broski & had him meet us to see
Inception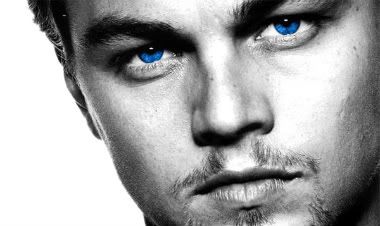 I wish i had a little synopsis prior to entering, just so i knew what to prepare myself mentally for... but, i thoroughly enjoyed it. i actually really want to see it
again.
clearly, this means i am stamping it with approval. my brother completely loathed it, but the fact that it involved dreams, the different dimensions of the mind & layering of dreams, ahem LEO, awesome cinematography, & an overall unique plot ~ i was in movie heaven.
i got some new unmentionables, new paints, & a new picnic blanket this weekend, all of which i'm pretty excited about. i love love love the weekends ♥