i worked a mere four hours this morning, and though they seemed to drag on for ages, its finally over. i'm house/weenie dog sitting this weekend for my parents while they have a fun weekend away with friends & i'm currently taking in the sound of rain drops on their back porch. how it is possible that i still haven't purchased an adorable pair of rainbooties... i do not know. i almost bought a yellow pair with a tiny butterfly pattern but held off in hopes of something cuter. rain is so soothing, it just relaxes you & makes you ponder.
im currently dreaming that i could be in St. Augustine tonight for the sold out Sublime show....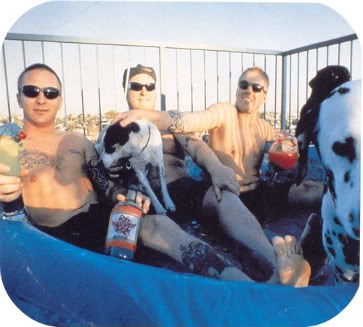 but, while i'm dreaming i'll go ahead & make Bradley Nowell actually be there, alive & fucking jamming hard. The universe lost a brilliant & passionate musician that fateful day in ninety-six.
sooo happy its summertime saturday, i dont even know what to do with myself...