ohhhh Austin, a city my eyes have yet to meet that is bangin with culture!! i have been dreaming about it for sometime & it has turned into a mini obsession... here's a few reasons Austin seems so very appealing & awesomely weird to me. i'm desperate to take a trip out there (& maybe stay for awhile:)
homes like this exist~
this one is called Casa Neverlandia & is completely eco friendly & adorable!
music!! Austin is the live music capital of the world.... hello 200 venues! not to mention
SOUTH BY SOUTHWEST!

March of next year i'll be there or ultimately i'll be a giant square.... as i am really dying to attend the SXSW festival... 3/11 will be their 25th anniversary & i just so happen to find it incredibly appropriate that my eyes & ears will experience something incredibly amazing after all, they've been seein' & hearin' my surroundings for twenty five years as well :D
cool weird shit like the cathedral of junk~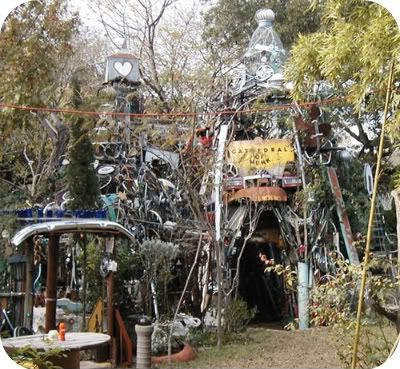 est. in 1988 Vince Hanneman has been collecting & contributing to his very own clubhouse of coolness if you will. One mans trash is literally another mans treasure... it houses everything from lawn mower parts, to 8 track records, car bumpers, kitchen utensils, a pyramid of tv's & anything you can imagine.
i really want to explore the
art on 5th gallery
....the largest contemporary art museum in Austin, voted best gallery twice & houses the most Dr. Suess art anywhere ~ love that!
OKAY Austin, your boutiques are allegedly amazing, your food apparently is mouth watering... seriously i read that "life changing queso" exists inside of you, the ever so lovely capital of Texas. You have artistically painted cars cruising your streets, bad ass roller girls, devil worshiping cheerleaders, & lawns that appear on street corners looking like this~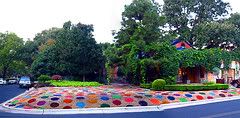 .
my heart is melting at the thought of meeting you, a city with a slogan "Keep Austin Weird". Sweet Austin, i'm coming for you... & until then, i'm dreaming of you.