This weekend my amazing Grandparents came down to visit from the majestic hills of Virginia with my Aunt & Uncle. My whole life i have always been separated by states or the Atlantic Ocean from my extended family. I feel short-changed at times that i haven't had the quality time over the years to really get to grow & learn from my sweet family. My dad was the oldest son & middle child in a family of seven, they grew up on a farm & lived a life that from time to time i can't truly even wrap my head around because its so very different than the way i was brought up.
circa 1963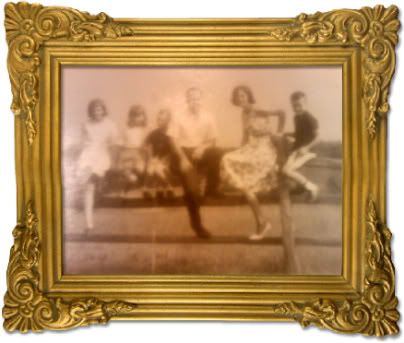 my daddy is perched on the right, but please note how beautiful my darling Grandmother is sitting atop the fence in her dress & heels. i just love her.

She told me all about the day she was married (sixty years ago!!), all the beautiful quilts she made & funny stories about life as a Mom, Wife & Grandmother over the years. Seriously, i'll be lucky if i'm half the woman she is when i'm her age ♥ & although my Grandpa's mind is weakening some, & he now cannot remember my name, he still held my hand, told me i was beautiful, knew i was his granddaughter & made me laugh so much. They are incredibly interesting & sweet & simple & optimistic & i cannot say enough wonderful things about them both.


My grandparents saw the ocean for the first time in their lives this weekend. how powerful is that?