i cannot believe how quickly 2010 has flown in... to be completely cliché i'll say that every year seems to blow by faster than the last. Friday was my last day working for corporate America as a bank employee. I am so relieved, although it hasn't completely set in. I will definitely miss the wonderfully diverse individuals i worked with as well as the customers, but am so embracing the opportunity for change. it seems that my new boss embraces my creativity & personality - what a novel idea.
i have a full week off before i start my new job next Monday. color me excited!! Today i slept in until the sun awoke me, not the blaring sound of an alarm - which was absolutely amazing. i watched butterflies dart around my parents backyard, so beautiful. Listened to the new Arcade Fire album back to back - pure bliss. Played with my weenie dogs - always puts a giant smile on my face. I had the yummiest pita with my brother & assembled a bookshelf with him - he keeps me laughing, i adore him. I talked to my mom on the phone for almost two hours, i am so ready to have her home from Scotland!! I purchased some new brushes on sale at a crafts store, as i plan to do some painting this week... all of these things equate to a magnificent monday in my world.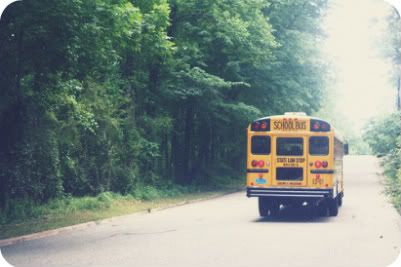 As i drove over to my brothers house i came up on a yellow school bus. i stopped behind it at the various stops as it let out excited junior high kids in front of their neighborhoods, seemingly so pleased to be out of school for the day. I watched them get off the bus & took note of their clothes & the way they interacted with one another. It immediately brought me back to my own memories of riding the bus when i was their age ~ posted up with my disc man, laughing with friends, crawling under the seats to mischievously tie shoelaces together, walking with the neighborhood kids, running through the blue house man's yard even though he hated it & would turn the sprinklers on us... getting my ass kicked for talking trash to a fellow eighth grade boy. has it really been twelve years?