This evening i left my work to venture on a mini shopping spree. Confession: in addition to shopping, i have been gambling. i gambled one Alexander Hamilton bill to enter the weekly NFL office pool.... oh these boys so didn't know what hit them when I beat all their candy asses & annihilated them with my accurate game predictions.
upon collecting my monetary winnings i ventured over to Target to pick out this sweet box for my office...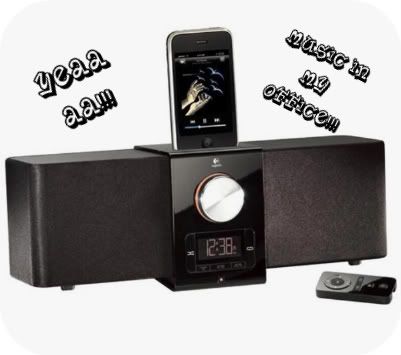 absolutely cannot wait to set this beauty on my desk in the morning & have my entire iPod library at my fingertips while i work!! added bonus... its a constant reminder to all the dudes that they are losers :)
EDIT:
the sound is awesome on this little gem! it is so sleek & the sound quality is impressive! it also works as an alarm clock, has a remote, it plugs into the wall but can also be portable with batteries... for around eighty bones this is a steal... & would make a killer gift, if you are feeling generous!
in closing i'd like to ponder this thought... who is Pete, & why is he always referenced in statements like "For the love of Pete!" clearly, he is very lovable... but why!?!