sure do appreciate you coming through so sweetly this year... here i was thinking i might find coal in my stocking & much to my surprise i received some truly lovely gifts... so, thanks old man.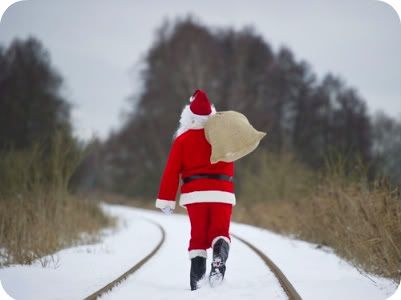 of course it's not about the presents (though they were fabulous & included a ballin new laptop, adorable dresses (one featured below), a colorful coach purse, & a weenie dog necklace!) this year Santa, it was also about spending time with those closest to me: enjoying delicious home cooked meals, snuggling to watch movies at home (ahem Home Alone on VHS) as well as in the theater, sharing meals with friends, catching up over coffee, story telling til the early morning hours, & even having a small five year old boy sit on my lap & tell me what he was hoping to find beneath his tree.
i'm having a hard time grasping the fact that twenty ten is almost complete & a new year is approaching... so much has happened & changed in my life this year, it has definitely been a wild ride, but not gonna lie... i'm crossing my fingers that 2011 is the best yet!
& i'm thinking this little gem i tried on tonight will be my NYE dress, quite fitting for a black tie affair... ♥