There is something so relaxing, enjoyable, & completely fun about perusing the vast variety of items at flea markets. It's almost like hunting for hidden treasures among hundreds & thousands of completely obscure items. It makes me feel like a little kid sometimes, hunting for easter eggs or imagining a secret cave or attic filled with brilliant items.
i didn't find a magical genie inside a golden lamp, or shaquille o'neal, but i did find some fabulous fifties pyrex dishes, a serious stack of records & came across an adorable owl couple made in Japan in the fifties.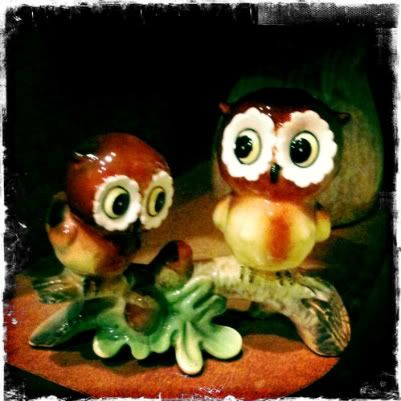 i'm not sure where they lived before the st. johns flea market, it's so wonderful to take on things that have a story behind them....for now, i think they are quite happy beneath their mushroom cloud wisely watching over a certain mister's home.