In case you were wondering, February in Florida is absolutely beautiful & this weekend was an incredible example of how lovely it truly can be. Not only did i manage to make it to the beach to see waves crashing on the shore, while flinging a frisbee, i also spent a couple hours cruising with my top down in Daisy. Few things in life bring me quite as much joy as riding in my mellow yellow beetle with the top down, some good tunes & the sun shining ♥
i channeled my inner child Sunday as i doodled on sidewalks with colorful chalk... a special thank you goes out to wal-mart for supplying an end cap full of enough boxes of sidewalk chalk to provide happiness to an entire elementary school...or at least to one twenty-five year old.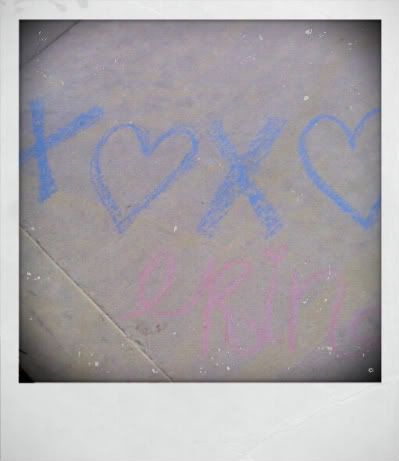 The weather was just perfect, i soaked up as much of the day outside as i possibly could & pedaled until my heart was content on a lovely bicycle ride. It's funny, as a child growing up, i was constantly on my bicycle, i mean it
was
my main source of transportation...& then i let years & years pass before i ever longed for my legs to propel me forward in a circular motion. I am so happy Bluella came into my life fourteen months ago ♥ it's the little things in life that make me smile.