Friday evening one of my absolute favorite dude friends had an epic event. For you see he & his band mates released their first album. The event was hosted inside my favorite hole-in-the-wall venue, here in Jax....Jackrabbits.
Besides having a truly great time with friends, listening to live music, sharing organic wine with my favorite hot momma, not to mention dancing... i was completely impressed with the performance DarkHorse Saloon put on for us all. Since seeing their first gig, along with a splattering in between then to now, they have fully flourished into a band nothing short of badass.
They are a local band on the rise with an intense rockin' indie sound that is reminiscent of Death from Above 1979. pure LOVE. The trio hail from Jax Beach making sick sounds sure to leave you dancin about. Their sound is vibrant, i love the guitar & bass line take offs, the way the constant drum will suddenly build and then explode into a chaotic frenzy. it's full of vibrating sounds sure to leave you happily rockin along...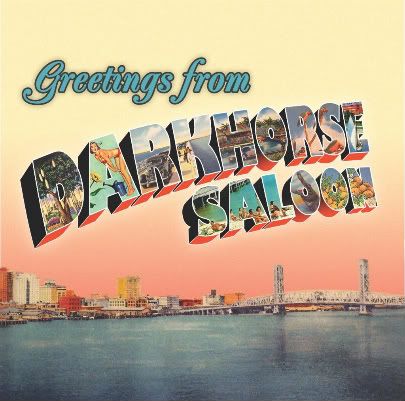 i've been listenin & lovin their debut album... here is My Wave, the first track off the new album. Enjoi!