i can hardly believe me & my traveling toes have been back home a full week now.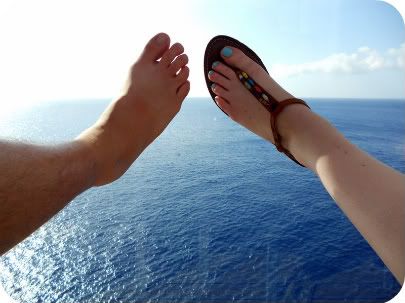 The mista & i had an absolutely amazing vacation... & i do mean, AHHH-MAZE-INGGG! We ventured down the state & boarded a glorious giant ship named Destiny ported in Miami. Miss Destiny glided through the deep blue ocean to take us physically to Jamaica & the Cayman Islands, & mentally to harmonious unabridged bliss.
We drank copious amounts of alcohol day & night, basked in the breeze on our completely baller balcony, kissed in foreign lands, devoured delicious meals, fell in love with Jamaica, & i even overcame my fear of heights by jumping off a mountain & into the rain forest via zip line. ahem thoroughly awesome! Eight glorious days without an alarm clock, without any agenda at all except to enjoy every waking moment any way we desired.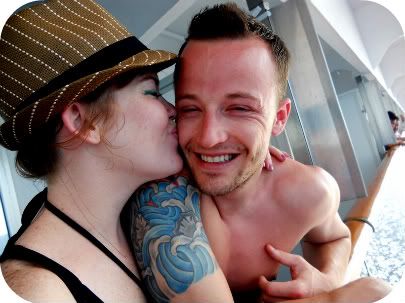 We shimmied the streets of Grand Cayman, floated down a beautiful river for three miles... with equally beautiful people, & my incredibly charming mista dolski even twirled me on the dance floor every evening aboard Miss D! I have so many stories & pictures to share from our little expedition, this was only a taste. i can whole heatedly share that i fell much deeper out on those big blue waves & am in complete awe of the special man who literally walked into my life out of no where. He keeps tellin me it's destiny...