Recently i picked up this small room dividing mid-century table at
a lovely antique shop
in Holly Hill, FL. It was in serious need of a little love to bring it back to life, but i saw it's potential shining through as being an amazing & beautiful host for a flat screen television in my living room.


a little sanding, priming, painting, poly-urethane-ing, & adorable new Indian glass knobs later....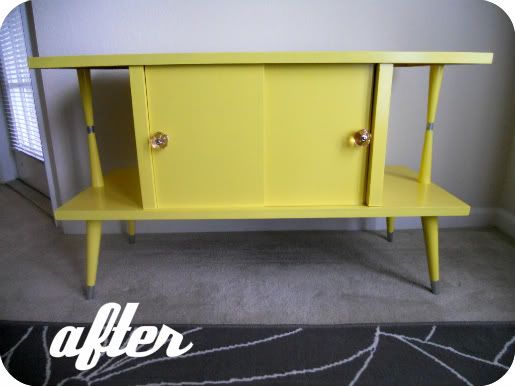 & i'm in love with this piece. i absolutely adore the yellow, i think it works perfectly with the style. i am so pleased with how it came out.... it was definitely a labor of love. i especially appreciate the personality that comes with a refurbished mid-century piece, it's completely unique with a wonderful new flare, & it's my favorite thing in my new place. just sayin'.