On the day i turned twenty-six (srsly? am i really twenty-six!?) i drank
just enough
light beer to acquire the nerve to enter a line full of equally crazy people in anticipation of jumping on board one of the tallest roller coasters in North America.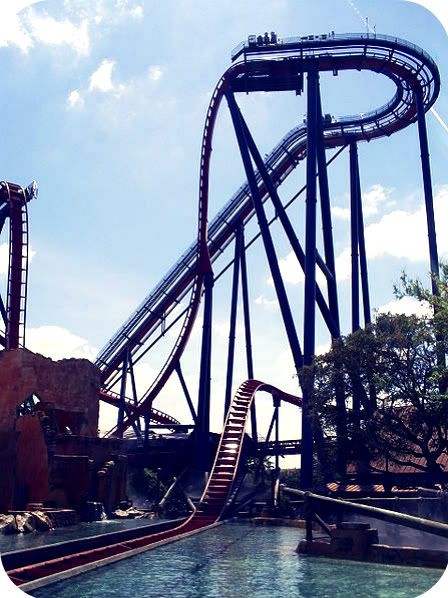 Say hello to Sheikra, one hell of a coaster with an intense 200ft climb up to the sky followed by a 200ft drop at a ninety degree angle. YES, a heart stopping, anxiety ridden, seemingly free fall at a freaking 90° drop. OH! & then there's another 138 foot drop... for a girl who is incredibly freighted at great heights - this was a huge feat for me. i held on for dear life as i tightly grasped the harness over me & watched as my feet dangled in the air, as the coaster slowly tick, tick, ticked its way upward. i thought, what have i got myself into to?? Simon announced "check out the view" & in that moment i was relieved, it was lovely & amazing being so high & seeing all of Tampa surrounding us. Ofcourse, those riveting seconds of bliss were instantly changed as we paused, cliff-hung over the edge & this photo summed up my feelings.
sheer terror.
i screamed for my life... i was convinced (completely!) i would be the girl who unbelievably flew out her seat to a brutal death at Busch Gardens. Luckily, this was not the case. Time literally seemed to stand still & then..... an incredible flow of endorphins & adrenaline, what a rush!! I honestly can't believe how much fun i had overcoming my fear of roller coasters. It's an amazing memory & i'm sooo happy i was able to experience it with the people i did & that i have this ridiculously hilarious photo to cherish.