On November sixth, nineteen-eighty-two a wonderful individual was welcomed with loving arms to Planet Earth. I'm so delighted he was, & that twenty seven years later he would stroll through my work place & eventually own my heart.

He just had a birthday! Darling... twenty-nine looks great on you!


My mista, a once upon a time hockey hero himself, is a die hard Philadelphia Flyers fan. For his bday, i thought long & hard about what i wanted to do for his birthday, after all he does so much for me, so i really wanted to make it extra special. I finally decided I would surprise him with center ice seats to watch his beloved Flyers take on the Lightning in Tampa. Actually i was pretty stoked about it! I scored these seats three rows behind the glass, behind the Flyers bench & was dying with excitement to give them to him & see his face!! I couldn't settle with just that though, i felt that i needed something tangible, something thoughtful, something.... that he could have to remember that day forever, with me.
So, i got out a blank canvas & in honor of him & his flyers i began to paint. This was the end result:

A little orange, black & orange. A slight change of the Flyers logo, incorporated with a bit of the Philly skyline & it's pretty fly.

He loved it!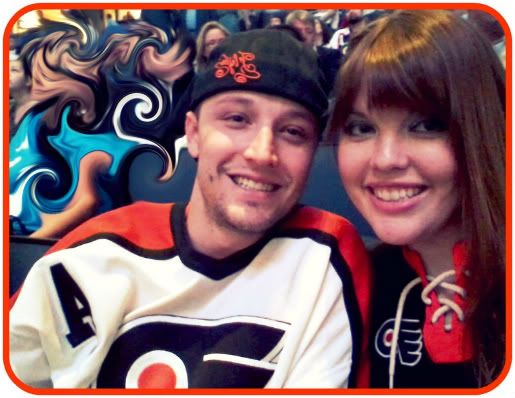 His birthday was so special. We had an amazing time together... I'm so lucky to have found him, the happiness shared with him is like nothing else in this universe. The hockey game was an absolute blast... they weren't victorious, but that didn't even matter. My first Flyers game ever, but hopefully not my last!!

I love you immensely mista dolski. Happy twenty-ninth!