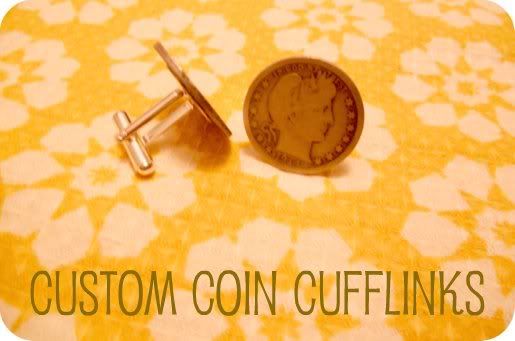 This year the mista received some custom cufflinks for Valentine's Day made by yours truly & he kind of adored them! I thought they came out awesome, & they were so crazy simple to make! So i thought i would share a little how-to. They make great gifts, & everyone can appreciate something that has been custom made for them with a little bit of love.
My future hubby works in the banking industry (which just so happens to be where i first laid eyes on him) so it seemed fitting that i make his cufflinks with old coins for my bankin' beau. While i was working in the corporate banking world i was lucky enough to snag a roll of antique all silver quarters & dimes, because some unlucky sap turned it in with their rolled coins for bills. I actually have my girl Briggi to thank for that. So lucky me i have some sterling quarters from 1914 & 1928 to work with, as well as sterling dimes from the sixties. Foreign coins would also be a great idea, especially if they were from a far off land you both traveled to together!
materials needed

:
2 coins, or round typewriter keys, vintage buttons, etc
cuff link blanks (i ordered sterling silver ones off Etsy)
metal epoxy (i picked mine up from Michael's crafts)
a type of cleaner (sterling silver jewelry cleaner for coins)
q-tips
knife or razor
1.
Remove all dirt from your coin (or other item you are planning to adhere) this will allow for a stronger hold onto the plate. i brushed my silver coins with sterling silver jewelry cleaner, then rinsed with water & dried.
2.
Next you are going to want to score the plate of your blank cuff link with a knife or razor. Slits & rough spots will make it coarse & aid in the adhering to your coin.
3.
Next apply a small but generous (does that make sense?) amount of the epoxy to both the scored plate of the cuff & the side of the coin you do not want exposed. I carefully lined the front right side up of the coin with the horizontal piece of the link. So when it is displayed on the shirt it lays straight.
4.
Hold the coin firmly into the glue & then quickly pull away & back together. Use q-tips to brush excess glue off the back, to make it look nicer. The glue dries almost instantly!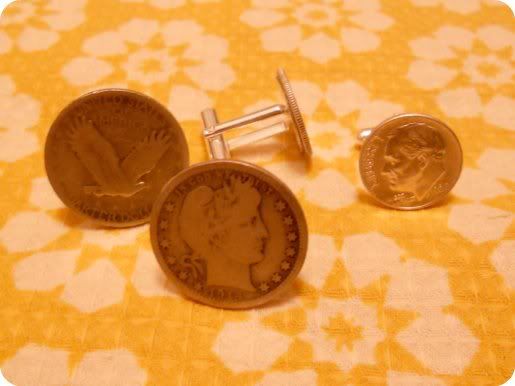 All that's left now is to find a cute box to house your custom links before you present them to your special someone ♥