i love little getaways, friday evening the FEY-ON-CE & i took sweet Daisy (my VW beetle) down 95 to Delray Beach to visit a very special pair: my BFF Jessica & her handsome suitor Simon.
Jess & I spent years living in the same towns, & every time we're reunited (& separated again) it just makes me realize how much it completely blows not being a few blocks away from her anymore. We spent three consecutive St. Patrick's Days together in Tallahassee & then three apart, this year - we were back together again for the joyous green filled occasion.
Some how we ended up being in the Delray Parade. This was naturally due to Simon/JT$ connections. I'm pretty well convinced we had the most badass float crusin down the street with a live funk rock band entertaining the crowd, & i was pretty entertained myself.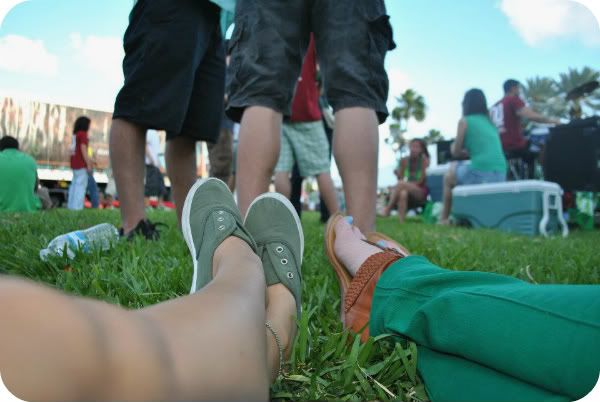 A solid St Pats indeed with my friends & me Irish man. my shot glass necklace came in handy for consuming whiskey, which was awesome & i forced my mista to wear a green fro, i'm kinda glad he did. it was pretty awesome, & led to a dude sharing his green bicycle with him.
Hope yours was equally awesome!!