I remember the first time i laid eyes on him. I can close my eyes & see it like it was yesterday... Jake Dolan strolling into my work in a sharp suit, catching me off guard & drawing me in instantly. At the time we were both working for a (giant, nationwide) bank. I was a teller, & he was a manager recently relocated to North Florida from South Florida. He stopped me in my tracks. "Who was this guy!?" I pondered. I can't explain it, but i didn't even hesitate as i immediately walked up to him, catching a quick glimpse at his name tag, & beginning "Hi, Jake Dolan!" I probed him asking "Whats your deal?" Perplexed where this handsome fella had came from, & intrigued by his answers. Hanging on every word, I was excited in those fleeting moments & happily, per the instruction of my manager, introduced him to everyone in our branch. He was delightful, curious, & charming. My co-worker quickly let me know (as if i had't noticed) how cute he was, & was convinced "he was checking me out".
For weeks i would catch myself wondering silently to myself if/when he would stroll back through my branch. I really didn't know much at all about him, but i knew there was just something about there. When i caught him in the parking lot one afternoon on my way out for lunch, i delighted in shouting
once more through the passenger window of my beetle as i sped away. I immediately determined that i really adored his name, & concluded that simply calling him by his first name just wouldn't do. He was adorable, & it automatically made my average afternoon a wonderful one knowing, he would most likely be inside my bank when i returned. He was, & our friendly flirtatious exchanges continued.
Weeks and months passed, I interviewed for a higher position at another branch & was shocked to see him waiting for me to arrive. He sat in on the interview, & i presumed i had it in the bag. In fact, i didn't. One morning while browsing through my work e-mails i was surprised to see a note (the first) from him, with his number & a request to call him. My mind wandered about what this could be about, we had never talked on the phone before, & naturally curiosity & intrigue for the handsome gentleman got the best of me & so i rang.
I paced around the backyard listening to him explain to me that the nature of this phone call was to let me know that he had been wanting to talk to me for some time. He explained his sorrow that I was not granted the promotion & was determined to make me aware that if it were up to him i would have the job. Upon our conversation ending a flurry of text messages we're exchanged. He boldly mentioned that he would love to take me out to dinner, & went on to explain an instant attraction & intrigue with me... that he had attempted to find me on facebook, as well as myspace to no avail after our magnetic first meeting.
I accepted his dinner offer, & so we met for our first date. I wore an ivory dress with lace, turquoise heels & butterflies lined my stomach. As we walked towards the restaurant, he turned to me confidently & declared "I'm going to marry you." It made me smile, but in truth, i was thinking -
is this guy crazy or what??
We hadn't even kissed, held hands, or even shared a meal together!! & then the cliched sparks flew & we had the most incredible first date. Flowing conversation, lots of laughter, smiling, & eye gazing. I was so giddy, i think the food was delicious, but in truth, i was so stimulated with the person i was sharing the evening with.... it could have been terrible. I started to wonder if love at first sight existed, & that if everything i thought about love was something else entirely. Being together with him felt pure, unique & absolutely perfect in it's own way.
We simply could not get enough of each other after that night & spent hours every day chatting with each other. Literally, hours. It was as if it was a race to absorb the greatest amount of information we could about one another. I could open up to him about anything, & found myself really falling for him. We tried new things together, & for the first time for both of us: aired all of our secrets with another human being. It was freeing to be with someone, who accepted me for everything i am, & for everything i'm not. We went on a long walk one afternoon & we're met with rain, we let it fall all around us while we held hands, & he confessed to me that, he was in love with me. I felt it too. It was undeniable & incredible.
It's the greatest high.
Young & in love.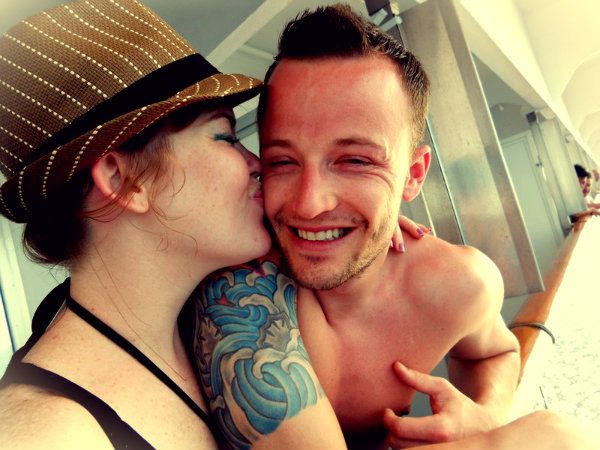 We met each others families, & everything seemed to just fall into place in it's own perfectly imperfect way. I was instantly fond of his family. as was he with mine. My weenie dog, Button, adored him. Even my older brother, who has typically, been displeased with every. single. guy. i've ever dated, really,
really
liked him. Our worlds began to merge, it made sense, i listened to my heart because everything felt completely natural & wonderful with him. Soon we vacationed together, cooked together, strolled parks, music venues, & towns, we zip-lined, danced, shopped, picnic-ed & sometimes hid from the rest of the world together. We still like to do all those things.
He told me he wanted to make my
dreams come true.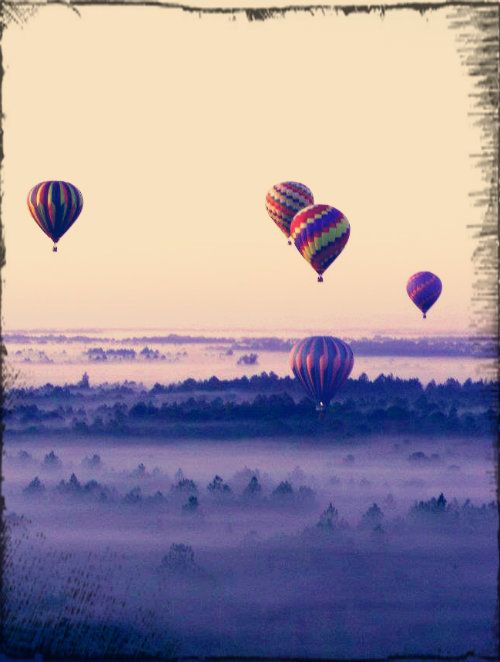 One early morning, on December twenty-fifth, also known as Christmas... he surprised me by my white tree, claiming he would be taking me hot air ballooning as a Christmas gift. I was in disbelief. You see, when i was just five years old, my parents took me to a festival in Alabama where i first laid eyes on a hot air balloon. I was instantly captivated by the giant balloons & spent twenty-one years dreaming of floating in one. He made that a reality January 22, 2012. A sunrise flight just the two of us escorted by our pilot Jeff. It was whimsical, breath-taking, exhilarating & absolutely beautiful. Words cannot accurately express how much it meant to me. Nothing can do it justice. I say it all the time, but, hands down.... it was, the best day ever. Greatest sunrise & view of my life, & i wouldn't have wanted to share it with anyone else. Even if he was looking....a little terrified, grasping tightly to side of the wicker basket, holding on for dear life.
When we landed, he hopped out of our basket to grab something, as i stood there a little confused. He came over to me with a picnic basket, & led me over to a field. He smiled at me & began telling me that he planned a breakfast picnic for us. I thought that was so incredibly sweet, as he placed the basket onto the ground & asked me to open it with this look. I knelt down, turning the latch to open the basket & i heard a tiny squeak. I quickly turned to Jake, peeked inside to discover a tiny miniature long hair dachshund. I immediately gasped at his cuteness! This time when i looked over at Jake Dolan he was kneeling down on one knee & began pouring his heart to me & asked if i would to spend the rest of my life with him. My eyes welled with tears, completely shocked & it was then i noticed the sparkling ring on the collar of the little puppy. It's the most beautifully unique & dazzling ring i've ever seen. It felt so surreal. He asked if they could be my family, & while smiling began,
"

Will you spend your forever with me?

"
Could he be more adorable? I replied, "Are you serious?"
& with tears welling up in my blue eyes along with a big smile, i exclaimed "of course!"
He stole my heart, I'm stealing his last name
& we're dreaming up our forever together.
Some time in the Spring of twenty-thirteen we'll make it official
♥
& i feel like the luckiest girl in the world.